Take the $5 Alaska Grown Challenge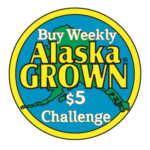 Spend $5 each week on Alaska Grown products at your local retailers. More information is available on the challenge here.
Alaska Grown - Celebrating more than 30 Years
As one of the most recognizable brands in the Last Frontier, Alaska Grown was created to help farmers, growers and producers market their products. The Alaska Grown brand is all about authenticity and promoting the success of Alaska's Agriculture Industry.