Latest News and Updates
Accepting Applications for 2019 Specialty Crop Block Grants
Alaskans can apply for block grants of up to $60,000 to support specialty crops under a federal program administered by the Alaska Division of Agriculture.
The grants will be available in two categories, with smaller grants targeting entry-level or investigative projects, and larger grants aimed at more evidence-based research projects or those building on previous projects with strong industry support. Alaska's specialty crops include fruits, vegetables, horticulture and nursery crops. These funds are awarded through a competitive review process guided by industry, nonprofit and government stakeholders. A Letter of Intent (LOI) is due by 5:00 p.m. Monday, February 11, 2019.
For more information and to apply, click here.
Take the $5 Alaska Grown Challenge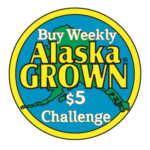 Spend $5 each week on Alaska Grown products at your local retailers. More information is available on the challenge here.
Alaska Grown - Celebrating more than 30 Years
As one of the most recognizable brands in the Last Frontier, Alaska Grown was created to help farmers, growers and producers market their products. The Alaska Grown brand is all about authenticity and promoting the success of Alaska's Agriculture Industry.